This article demonstrates how to establish a connection between HubSpot and Quickwork.
What you'll need:
Skill level: Easy
Time required: 3 minutes
To connect your HubSpot account with Quickwork, follow these steps:
Go to

Quickwork, select either a trigger or action of HubSpot. To configure a trigger, enter HubSpot under the Apps list in the New Trigger section. Then, select the trigger of your choice from the Triggers list:





To configure an action, click on the

Simple Action

button under the

Steps section, and choose the HubSpot app from the Apps list:




Choose a trigger or action of your choice. I have chosen the New contact created trigger.

Click on the

Link an account button to establish a new connection:





The

HubSpot OAuth window will open:


Select the Quickwork app and click the Choose Account button. You'll get this window only if you are logged in to your HubSpot account. If you haven't logged in, you'll be asked to do so.
Then, the automation window will appear. It contains all the scopes of HubSpot that Quickwork will access on your behalf. To grant the permission, click the Connect app button:



Confirm your authorization by clicking I'm not a robot. Your account will get connected successfully. The associated input fields will open up:



Deleting the connection
To delete a HubSpot connection from Quickwork, go to the Connections tab on your journey configuration window in which you have established the connection previously. You'll get a list of connected apps. Search for HubSpot:
Then, click the Disconnect button. Your HubSpot account will get disconnected successfully.
Uninstalling the app
To uninstall the Quickwork app from the HubSpot marketplace, log in to your Hubspot account. Click the Marketplace icon on the top-right corner of the toolbar. Select Connected apps under Manage: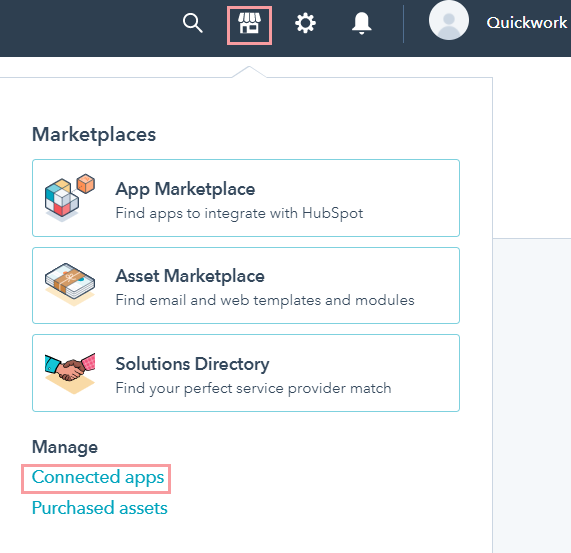 You'll see Quickwork Automation in the Connected apps list. Click the More button and select Uninstall:

Type uninstall in the text field and click the Uninstall button: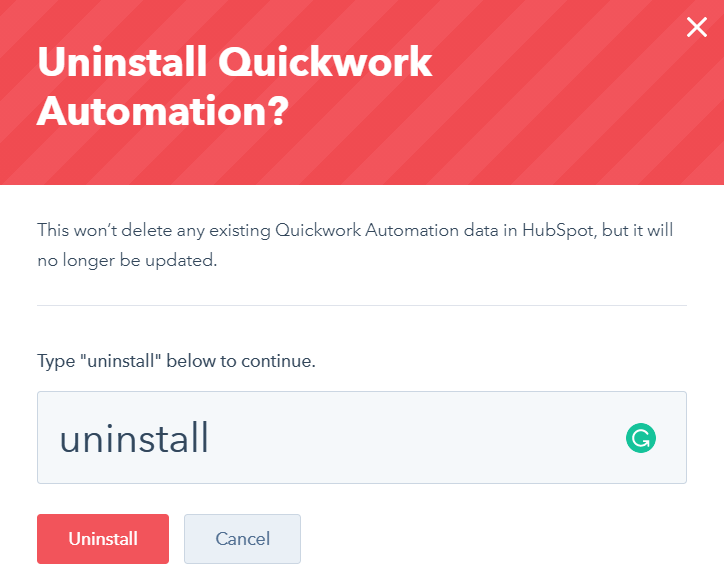 Select the reason to uninstall the app and click Done. Your app will be deleted successfully. Now, the Quickwork Automation app will get installed on the HubSpot marketplace whenever you try establishing the connection.