This article demonstrates how to establish a connection between Facebook Ad Leads and Quickwork.
What you'll need:
Skill level: Easy
Time required: 3 minutes
Facebook account
Facebook page
At least one ad created on the Facebook page
To connect your Facebook Ad Leads account with Quickwork, follow these steps:
Go to Quickwork and choose the Facebook Ad Leads app from the App drop-down field under the Event section.
Choose a trigger of your choice.
Click on the Link an account button to establish a connection.
The Facebook login page will appear asking you to sign in to your Facebook account if you are not logged in:




Once logged in, you'll be given an option to select the Facebook page you want to use with Quickwork automation:


Select the page of your choice and click the Next button. Next, you'll see the permissions window highlighting what Quickwork Automation is allowed to access. The permissions are by default toggled ON. Allow the permissions as per your consent. Click the Done button:




You'll get a confirmation screen stating Quickwork Automation is now linked to your Facebook account. Click the OK button:




After a successful connection establishment, you'll be taken to Quickwork where you can see the Connection Established message which means your Facebook account is now connected successfully:


There occur some scenarios where you had connected your Facebook account with Quickwork earlier but disconnected the account later. In such cases when you again try linking the same Facebook account, you'll get the following end-result screen: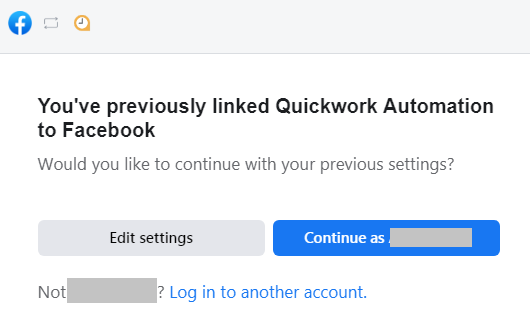 You won't get the previously-shown Facebook page selection and Facebook permission screen. To get it, click on the Edit settings button. This will allow you to choose the Facebook page that contains Ads and allow the permissions as per your consent.