This article demonstrates the use of formula mode in Quickwork.
What you'll need:
Skill level: Easy
Time required: 3 minutes
Skills to understand the formulas

Analysis of the formulas written
How to use it
To start using formulas, you need to be in Formula mode. The Formula mode needs to be switched on at the field level, and most input fields support the formula mode. To toggle from text mode into formula mode, click on the Test/Formula switch button. This also changes the type icon of the input field into the funnel icon:

Using the formula editor
In Formula mode, the formula editor provides a set of whitelisted formulas available for data modification and also provides additional help on how to use these formulas.
Whenever you switch an input field to the formula mode and click on it, a list of supported formulas applicable to the input appear: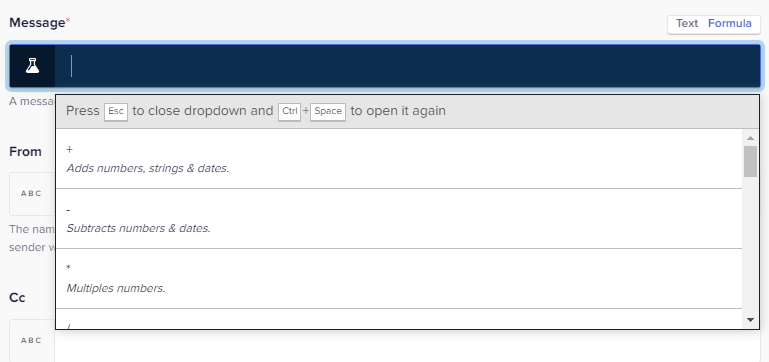 How do you use formulas
Whether it's a raw input or a data pill passed in the input field, formulas get appended with a mouse click with a delimiter to the input i.e., a full stop (.). Also, the color of the input characters and the formula chosen, changes in order to stand out on the screen: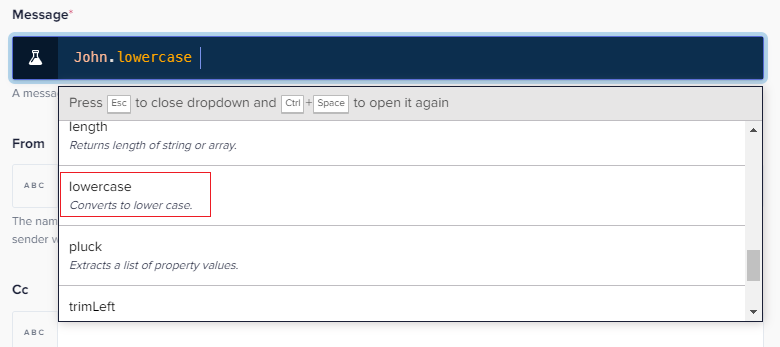 A complete list of formulas opens whenever any data pill of any data type is specified as an input. It is necessary to use appropriate formulas for data pills supporting appropriate data types. If a string type data pill is appended with a date type formula, or vice versa, then an error will occur: